Complete NOS GT BMX Bicycle Collection! NOS Parts & Memorabilia! Amazing! PFT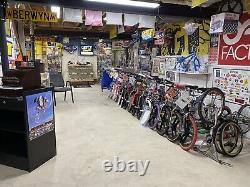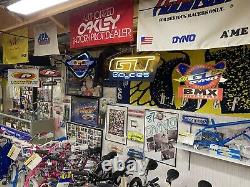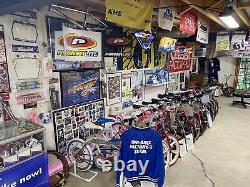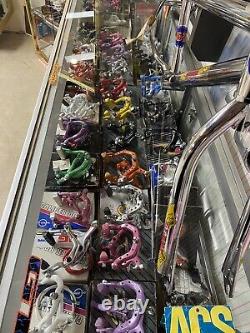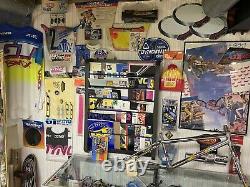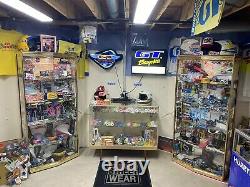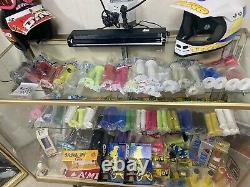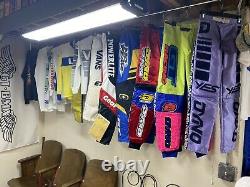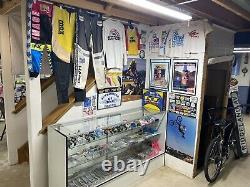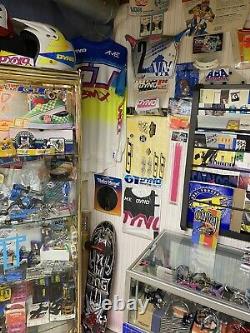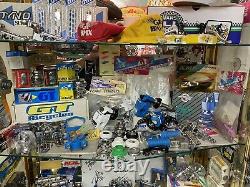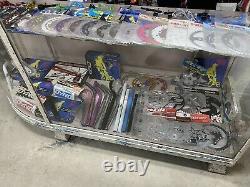 Link to photos at the bottom of the description! Up for sale is my amazing BMX collection. The collection primarily focuses on GT Bicycles although there are a couple of non GT bikes.
There are 24 bicycles, 19 which are completes, 2 NOS frames, one NOS frame & fork, and one freshly powdered frame, fork, bars, & post. Almost all of them were painstakingly disassembled, deep cleaned, and reassembled with every nut bolt and screw receiving attention. Those are just the bikes, the vast majority of this collection consists of NOS parts and memorabilia. I have cases of parts, pretty much everything is displayed or hung up. You have to look at the pics and ask questions. Assembling this collection was a MONUMENTAL feat. This took A LOT of work, time, and patience.
What you will see in the photos will blow you away (link below). I have been told that I have ONE OF the best assembled and displayed GT collections known, if you've been on the Facebook BMX pages you've seen it! My stuff isn't junk bikes piled up like cordwood on shelves. No, EVERY item has been gone over and lovingly been cleaned and properly displayed. I will even include four out of the six display cases as well!
This is your opportunity to obtain an instant collection, all the hard work done for you. YOU can be the next king!
Now for the ugly part. Many people in this hobby have NOT been good to me. There are also a LOW class of what I like to call "low-buck bike hustlers". Those people are usually the most arrogant and I have NO use for them. Good luck to you but this probably isn't for you.
I will ABSOLUTELY NOT UNDER ANY CIRCUMSTANCES sell this collection part by part. You need that brake caliper or those grips for your build? Go out and find the part like I did. I DO NOT NEED TO SELL THIS STUFF but I WILL if I get the right amount and if it's the RIGHT PERSON. It's just time to get out of this and move on to something else.
Ok, back to the pleasant stuff. Keep in mind, if I classify it as "gone over" this means that I have disassembled this bike part by part, every nut bolt and screw and painstakingly deep cleaned it and made it beautiful WITHOUT restoring anything, I call these bikes "MINT SURVIVORS". This is what you're getting unless it's noted otherwise! 1987 Air Uni (Basically a unicorn). I bought this bike directly from Roger Berg, owner of Uni, in January 2020.
This particular bike was assembled when new and used by Roger Berg as a test mule and display bike to showcase new parts he produced. Displayed and never really ridden. Supposedly less then 500 Air Unis were produced, ONLY ONE was Roger Bergs! If there was a BMX hall of fame, THIS bike would be there! 1986 GT Pro Freestyle Tour, Maui Blue, MINT SURVIVOR.
SUCH a cool bike, a scratch here and there but amazing in EVERY way. 1987 GT Pro Freestyle Tour. Built bike using all correct parts including dated pro series cranks, tech 7 levers, correct chain ring & 1987 GT Power disc, nos GT grips & Odyssey gen 1 cables, etc. Powdered pink frame, fork, bars, parts. OGK mags and GT heritage white tires.
Just needs 474 pedals to be complete. Magenta, MINT SURVIVOR, red GT tires, AWESOME bike. Once built, NEVER ridden bike shop display bike. This bike is totally OG and MINT as made by the factory.
The most amazing 87 GT Performer Ive EVER seen. Displayed in parts, Maui Blue (NO wheels or tires). The nicest one on the PLANET. NOS GT tires and GT fork standers added. Also PERFECT in every way.
Also the nicest one on the planet. NOS chrome GT fork standers added. Will be a MINT bike once deep cleaned. Totally correct and complete, part survivor and part resto. I had the post, bars, neck, chain ring, and levers powdered.
Needs to be gone over and assembled. Original Frame, fork, post and bars. White tomahawks, have most white components. A project, was going to build a BMX Beater.
Chrome, MINT SURVIVOR, perfect in every way, first gen GT tomahawks and NOS GT tires added. Blue with white parts, catalog bike. Had chain ring, calipers, levers, stem, and other white parts powdered white again. NOS GT parts used, repop dominator seat and new Skyway mags used.
Totally correct and perfect in every way, one of the nicest around. Chrome (green antifreeze decals) TOTALLY MINT SURVIVOR. Nicest example Ive EVER seen PERIOD. Not deep cleaned yet, will be MINT once done. Have black GT heritage tires to replace worn originals. Not deep cleaned yet, will be MINT when done. I built this bike using many OG components, added repop GT Power Series cranks, NOS red GT overdrive sprocket, NOS GT Chrome Grinder Pegs, red Odyssey triple traps, red GT grips, red dominator seat, GT fan mags, etc. 1985 GT Pro chrome NOS frame and fork. 1989 GT Pro Freestyle Tour Frame Fork, bars, and stamped GT post. Total fresh powder, never built, by Ernies 80s bike shop in Thermo Nuclear Orange. Stickered as 87 PFT with Ultrahive decals. 1998 GT Speed Series NOS frame in chrome. 1998 GT Power Series NOS frame in natural aluminum. Needs full deep clean to be mint.
Complete with NOS tires to replace worn originals. This collection really needs to be packed and professionally moved. Do not call or text to BS, I really want to be available for BUYERS. All other inquiries will be ignored! The item "Complete NOS GT BMX Bicycle Collection!
PFT" is in sale since Monday, May 31, 2021. This item is in the category "Sporting Goods\Cycling\Vintage Cycling\Vintage Bicycle Parts". The seller is "leddzepplin" and is located in Darien, Illinois. This item can't be shipped, the buyer must pick up the item.
Brand: GT Bicycles
For Bike Type: BMX Bike

---