34 USCutter MH Series Vinyl Cutter/Plotter, Make Signs Decals Stickers Refurb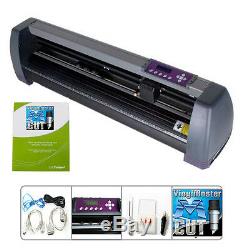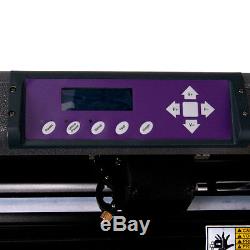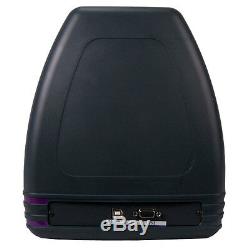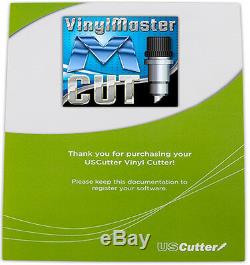 LOOKING FOR NEW VINYL CUTTER? 34 USCutter MH Series Vinyl Cutter/Plotter, Make Signs Decals Stickers Banners - Refurb with Free VinylMaster Cut (Design & Cut) Software.
Make graphics for your community, or bring your signage production needs in-house. Signs, banners, decals, heat transfer for apparel.
Superior ball-bearing dual roller system for feeding vinyl. FREE INCLUDED VECTORIZING AND CUT SOFTWARE. Create original artwork or vectorize images with VinylMaster Cut. (1) Although this unit has been tested to be in good working condition, it may have potential cosmetic defects. (2) THIS VINYL CUTTER IS NOT COMPATIBLE WITH APPLE/MAC COMPUTERS. (3) THIS CUTTER DOES NOT CONTOUR CUT. Contour cutting is defined as the process of first printing an image, then (using a vinyl cutter) going back and cutting around the printed area. The USCutter MH-Series are the best value vinyl cutters available anywhere! Works with VinylMaster Cut and other popular software (like Sure Cuts A Lot Pro, Flexi, SignBlaser and SignCut Productivity Pro) through standard Roland PNC1000 drivers. Refurbished 34 Vinyl Cutter Without Stand. VinylMaster Cut - a Design & Cut Software. Three connectivity options: Parallel, Serial, and USB. Pen adapter (use to plot instead of cut). VinylMaster Cut (Basic Edition) is dedicated vinyl cutting software designed specifically for making vinyl signage. VinylMaster Cut allows you to produce a wide range of vinyl lettering, pinstriping, and general signage, and comes with a suite of text, curve, and object tools. Take your creative vision from your mind to ready to cut computer image file with an easily customizable and intuitive interface.
Fonts are vectorized and ready to cut immediately. Edit images, draw shapes, customize text, modify signs, create logos, and so much more. VinylMaster Cut software is quite possibly the best vinyl cutting software on the market today. With built in vectorization tools, compatibility with all the major image formats, even low quality jpeg and bitmap images, VinylMaster Cut can quickly and easily turn a broad variety of images into cuttable vector path designs in seconds.
Simply use the VinylMaster Cut image trace feature on any image and it will be converted into a plotting file ready to cut or make further edits. Design and Image Editing Tools. VinylMaster Cut functionality includes text tools, curves, shapes, logos, and more as well as the ability to import from AI, EPS and PDF files easily. In addition to the VinylMaster Cut variety of tools, there are a number of clipart samples. With dimension and layout tools, your design will be completed accurately while saving material from being wasted.
Editing nodes, customizing and adjusting shapes, and welding and manipulating paths are all easy to use and reliable functions with VinylMaster Cut. For production runs of vinyl projects which require layering of multiple colors, VinylMaster Cut has an innovative spooling function which is much superior to the competition. Send multiple jobs to the queue and sort by color: only the parts of the design in the specified c.
Olor will be cut, allowing you to complete multiple multi-layered multi-color workflows without switching between rolls of different colored vinyl. While cutting with VinylMaster Cut is limited to one user, use of the software is available to unlimited users. Your design team, digital printer and vinyl cutter specialist can all collaborate using one license and send the cutting file to the computer connected to your cutter when it's time to actually cut the job. This allows you to design and work from any location.
Pentium processor-based PC or compatible computer (Windows). 512 MB of RAM or more. At least 50 MB of available hard disk space. USB Port 1.1 or 2. Activation Code included on card in product packaging for digital download of software.
Internet Access is required for installation. Physical disc is not required. Refurb Vinyl Cutter with no stand, 3-pack of Blades, Blade Holder, Pen Attachment, Serial Cable, USB Cable, Power Cable. You have 30 days from the time you receive a product to initiate a return or to report a defective product.
See the items below to determine the terms for your return. Any order placed with Sign Supply Closeout implies consent to abide by these policies. Policy displayed on individual product page takes precedence over any other policy displayed anywhere else. Any equipment older than 30 days may be replaced with a certified refurbished unit at our discretion.
If the item arrived damaged, broken, or faulty, Sign Supply Closeout recommends that you add pictures showing any scratches or defects when sending a request for the return. Make sure your return is trackable.
Local pickups are not available. Sign Supply Closeout does not accept International orders. The item "34 USCutter MH Series Vinyl Cutter/Plotter, Make Signs Decals Stickers Refurb" is in sale since Thursday, June 8, 2017. This item is in the category "Business & Industrial\Printing & Graphic Arts\Plotters & Wide Format Printers".
The seller is "signsupplycloseout" and is located in Memphis, Tennessee. This item can be shipped to United States.
Model: MH871
MPN: REHKCM2871NOS
Brand: USCutter

---