Apple PowerMac 9600/350 New (NOS) condition, rare vintage bundle, must see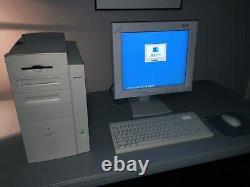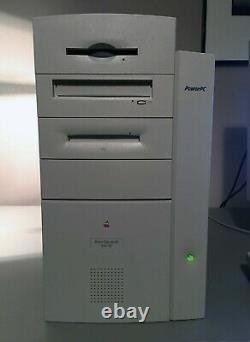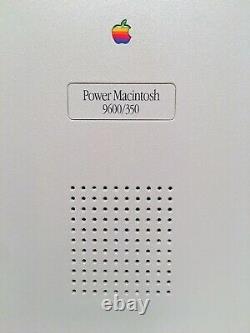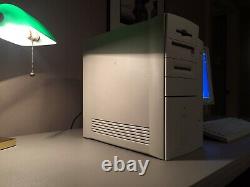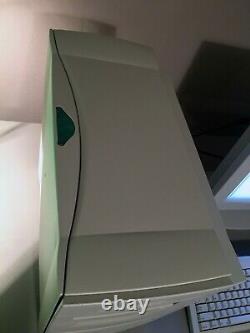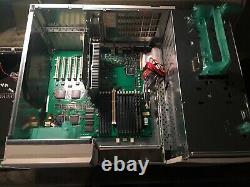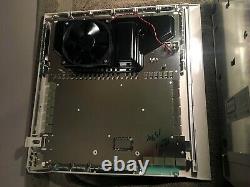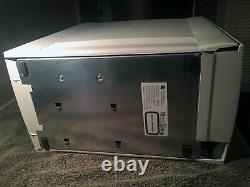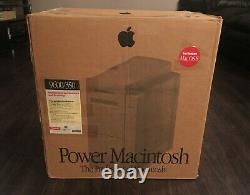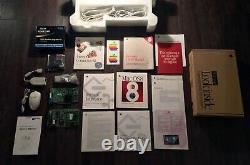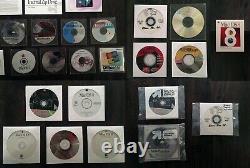 Attention vintage computer collectors: this is a true gem of a bundle. For sale is an open-box, vintage new-old-stock Apple Power Macintosh 9600/350, manufactured in 1996.
Aside from testing the unit, I have kept it stored in a climate-controlled indoor closet for the past thirteen years. ANY "yellowing" you see on the plastics in these photos is purely due to lighting; the case panels on the 9600 as well as the NOS monitor, keyboard, and mouse are all pristine factory white with no signs of fading or yellowing. This model is notable amongst Mac history for a variety of reasons. The 9600 was the most powerful pre-G3 Mac ever. It was the very last Mac to ever natively support System 7, while also supporting G3 and even G4 upgrades via daughtercard.
It offers a massive 12 RAM slots and 6 PCI slots, which no Mac has matched since. The 9600/350 (unlike the 9600/200, 233, and 300) was also known for its unique Mach 5 604ev CPU, with a larger L2 cache. This model includes the Kansas motherboard, an improvement upon the Tsunami motherboard used by other models of the 9600. It is a white NEC MultiSync LCD1810 Xtraview.
It compliments the 9600 perfectly in both appearance and performance. Sharp text, nice graphics performance, swivel/tilt stand, and support for DVI and VGA. It connects to the stock 9600 video card via the Apple Monitor Interface DB15 to VGA adapter, which is included. The original owner had customized the machine BTO from a vendor with a Radeon card supporting VGA directly, and this monitor can connect directly to that port. Ive only booted this machine for testing purposes, but it has never used beyond that.
This amazing machine is in the same pristine condition that it was when it rolled off the assembly line. Stock configuration (see UPC label code picture in gallery) includes 64 MB RAM, 8 MB VRAM (8MB ixMicro TwinTurbo video card), 4 GB internal SCSI HDD, 1 MB cache, 1.44 MB Floppy, 24x CD, and an internal Iomega ZIP 100 drive.
The second included card is an ATI Radeon 7000 32 MB card (which can be used in conjunction with the 64 MB card, or standalone; some people report that it is more stable than the 64MB variety, although I havent tested this). The third included card is an older ATI Mach64 card, circa 1998. This card is slightly more powerful than the stock card, and includes both an Apple DB-15 connector as well as a VGA port directly on the card so that an adapter would not be required. It supports higher resolutions than the stock card, and functions natively in Mac OS 7.6.
Per experience with similar models, I believe that Mac OS 7.6.1 is the best operating system for this system. 7.6.1 is very lightweight, next to no overhead, stable, and highly customizable.
Some of the most useful tools, utilities, and drivers will be included on a CD labeled 9600 Tweaks, which I compiled for use with another 9600 that I used to own. Original AppleDesign Keyboard and Apple Desktop Mouse II. Very highly rated, rich sound, and aesthetically pleasing next to the 9600.
A total of 512 MB of compatible FPM/EDO RAM is included (this is not new, but in excellent condition). More memory increases boot time, as the memory has to be checked at startup, but its up to you if you want to install it.
The additional memory was tested in another machine (years ago), and worked at that time. It has been stored in an antistatic bag for 10 years. Asante FriendlyNet AAUI (Apple Attachment User Interface) to 10/100 Ethernet Adapter AAUI was designed to be a competitor to Ethernet, but the only device ever made available for the port was an AAUI to RJ-45 Ethernet adapter. These are not easy to find, and this one is new without packaging.
Note that there is also a native 10BaseT Ethernet port on the 9600 than can be used for Ethernet connectivity. However, this AAUI adapter supports 100 Mbps bandwidth over Cat5 Ethernet cable, and is faster than the 10 Mbps port on the motherboard. It has since been discontinued, and these are now impossible to find. It uses up to an 8 GB CompactFlash card that it addresses as SCSI storage, and that the Mac in turn sees as a hard disk. This would improve performance significantly.
MacAlly two-button ADB mouse and instruction manual new, pristine. I do not believe I have the drivers for this mouse. You may be able to find them online. If no drivers are installed, both buttons function as the left mouse button. New Apple Stereo PlainTalk microphone.
New Iomega ZIP 100 disk (included in Welcome box). All contents from the Welcome / Look Inside box that was included with the 9600 (see pictures). If desired, I can also include a near-mint condition Iomega JAZ external SCSI drive, along with 6-10.
Disks (used briefly but working). I also have a Sony Magneto-Optical removable SCSI drive along with 10+ disks that can be included, as well as 6-12 additional ZIP 100 MB disks (also used briefly, but working).
Software CDs included are as follows none of these are installed on the hard drive, except Microsoft Word, which came bundled with the machine. Some of these have been previously used. Apple Macintosh CD (new; includes Mac OS 7.6.1 and extras). Mac OS 8 CD (new) this was included in original box, but not installed. This version of the OS was released at the same time as the 9600/350, and they chose to include a retail version rather than modify the Apple Macintosh CD. Mac OS 8.5 CD (obtained from a third-party vendor as part of a bundle). Mac OS 8.6 Updates CD (obtained from a third-party vendor as part of a bundle). Mac OS 9.2.1 CD (obtained from a third-party vendor as part of a bundle); this is the final version of Mac OS that is natively compatible with the 9600. Mac OS X can only be installed with the helper utility XPostFacto.
Adobe Photoshop 4.0.1 with Tutorial CD. Fully licensed with serial number included.
This has been previously used. Microsoft Office 98, fully licensed with serial number included. PC Globe Maps & Facts. ATI Radeon Drivers, and specialized Radeon 7000 drivers for Mac OS 7.6.1.
Oregon Trail, Oregon Trail II. Please contact me with any questions. The item "Apple PowerMac 9600/350 New (NOS) condition, rare vintage bundle, must see" is in sale since Saturday, August 10, 2019. This item is in the category "Computers/Tablets & Networking\Desktops & All-In-Ones\Apple Desktops & All-In-Ones". The seller is "mnyesystems" and is located in San Antonio, Texas.
This item can be shipped to United States.
Model: PowerMac 9600
Operating System: Mac OS 7.6.1
Custom Bundle: Yes
Processor Speed: 350 MHz
Hard Drive Capacity: 4 GB
Release Year: 1996
Storage Type: HDD (Hard Disk Drive)
RAM Size: 64 MB
Processor: PowerPC 604ev
Screen Size: 18.5 in
Bundle Description: See auction description for details of all bundled items.

Brand: Apple
Form Factor: Tower
Type: Desktop
MPN: M5901LL/A

---