Galaxy DX959B FLAMETHROWER Edition BLUE High Performance SSB/AM CB RADIO NOS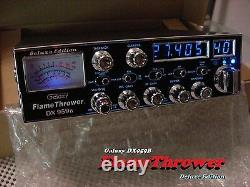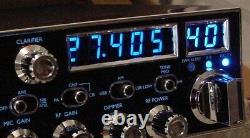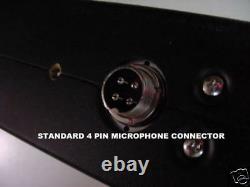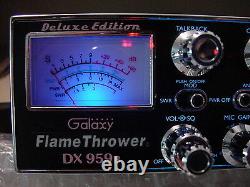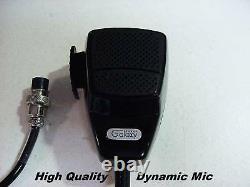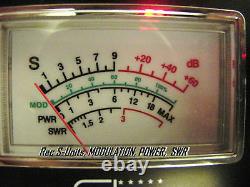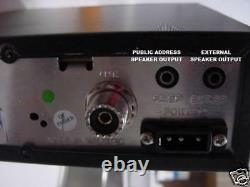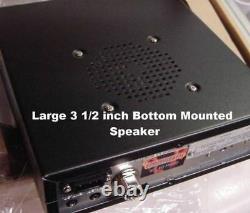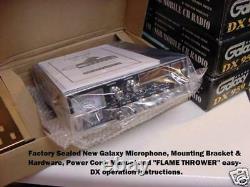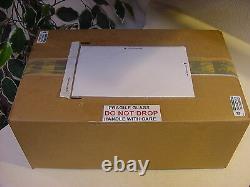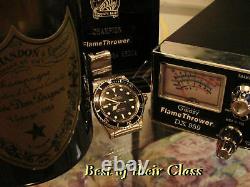 WE FOUND A TREASURE CHEST OF BRAND NEW N. Galaxy DX959B FlameThrower CB Radios made in MALAYSIA.
These radios are not currently available NEW anywhere. This high quality & performance FlameThrower radio is made in MALAYSIA! #1 Choice of Truck Drivers, Hobbyists, Off Roaders, Campers &. NEW FlameThrower DX959 " B " Deluxe Edition. With all high performance upgrades as listed and BLUE Frequency Display, BLUE Meter Light, BLUE Channel Selector and illuminated backlit Star-Lite Faceplate. You'll get the latest model G alaxy DX 959B Deluxe Edition, (as shown above) with these performance modifications done in the USA by American Techs. Upgraded front end detector diodes with superior quality Schottky "hot -carrier" diodes increasing receiver sensitivity. Upgraded DC power regulator providing ROCK SOLID voltage stability for entire radio during full power key-down. Upgraded noise blanker diodes eliminating engine ignition noise & alternator whine. Upgraded receiver 1st stage amplifier for more SIGNAL and less static noise for receiving distant stations.
2db, with almost 2X gain, allowing a dramatic increase in receiver performance. Upgraded audio driver amplifier for booming loud and clear 100% audio modulation with stock Galaxy microphone. No power mic needed, No "cut out" audio limiter components. Complete comprehensive tune-up using latest computer based avionics certified Tektronix test & alignment equipment. For clear, accurate "spot on" frequency operation in extreme (Hot or Cold) environments.
Eliminating routine service shop frequency alignment required on most SSB/CB radios. Precision adjust critical bias current and voltages. Common factory overlooked adjustment procedure enhancing overall performance while preventing signal distortion, overheating and early compone. Modified for operation in high vibration vehicles. A test proven performance safeguard for all Big Rigs.
Service Trucks, Emergency & Off-Road Vehicle installations preventing radio failure caused by high vibration. All Galaxy parts & labor covered for two full years. Which includes channel & frequency counter lighting and back-lit display.
Precision upgrades by SANDMAN R adio 5-0-0 So. Over 35 years of FCC/FAA licensed, SBE Certified commercial RF communications engineering experience. That's Quality Assurance You Can' t Beat Anywhere.
This high quality & performance FlameThrower radio is made in Malaysia! Mounting Bracket & Hardware, Power Cord with in-line fuse & Manual. Also, upgrade information sheet and easy-to-read operation instructions. Final power output but the upgraded receiver's outstanding sensitivity, selectivity, high gain and low noise floor. Receiver performance is an absolute essential for long range communications or when using a linear amplifier.
You need to hear the stations that can hear you, otherwise your extra power is useless. Radio Size 7-7/8"(W) x 9-1/4"(D) x 2-1/8(H) Weight 6.0 lbs. This Radio Complies with all FCC Part 95 Requirements. Beware of imitation "Performance CB Radio" wannabes. Do you want a radio & microphone that someone before you may have blown tobacco smoke into, coughed into or accidentally spit into?
Today's bacterial infections and diseases are no laughing matter. Our FlameThrowers are all BRAND NEW, not refurbished, not a DEMO. We build & test all FlameThrowers with OUR test mic, NOT yours, in a clean 100% smoke/dust/pet free environment. All FlameThrowers & microphones are Brand New in the box & free from any smoke, germs or who knows what. Consumer Report Rated 5 STARS " Best High Performance CB Radio Made ". Remember: If it doesn't say FlameThrower on it, IT'S NOT A FlameThrower!
FlameThrower radios are Brand New with latest design high output IRF520 MOSFET driver and final. No upgrades will amplify transmit power, increase band width or allow it to receive outside CB channels or violate any FCC regulations. The Galaxy FlameThrower CB radio has received over.
This high quality & performance FlameThrower radio is MADE IN MALAYSIA! If it doesn't say. The Trusted Store seal is awarded to merchants who. Consistently receive outstanding product and customer service ratings and reviews from Epinions members. Honor prices listed on their site without excuses.
"Limited" means that Galaxy will repair problems caused by factory defects or normal use at no charge. Problems caused by unqualified technicians, operator abuse or other miscellaneous catastrophes can also be repaired, but there will be a charge. There are no off-site "Factory Authorized" service centers for Galaxy "DX" models. This RAN may be obtained from Galaxy website or by calling Galaxy Service Department.
Remember, If it doesn't say "FlameThrower" on it, it's not a FlameThrower! The FlameThrower concept was developed by Brian a Broadcast Engineer, Bob an Aerospace Engineer and Bill a Veteran RF Service/Repair Tech in California who wanted to create (originally for their own hobby use) a CB radio that would out perform the finest radios made.
So, with a Galaxy DX959 in their possession, they combined their skills and experience and upgraded & modified critical portions of the radio, dramatically enhancing it's overall performance, dependability and reliability calling it a FlameThrower! It's name derived from a commercial broadcasting term meaning "Clear-Channel Radio Station".
Only one of the original creators of the FlameThrower is alive today, but the brilliant efforts of these three remarkable friends still lives on in the FlameThrower tradition. Considered by many, both then & now, The Best Custom CB Made. When you own a FlameThrower, you not only own arguably one of the best high performance CB radios ever built, but part of the efforts of those 3 extraordinary guys from Southern California who turned ideas into reality.
A FlameThrower CB is a factory new radio (not used, not refurbished, not a demo) modified with the absolute highest quality parts available using only high alloy silver solder. All components are mounted directly into the printed circuit board, with no rats nest of components wired or dangling inside of the radio, as commonly seen in lower quality "copy cat" upgraded radios.
The performance upgrades and precision alignment process is done in the USA by a highly experienced SBE Certified FCC/FAA/GROL w/RADAR licensed technician utilizing new state-of-the-art. Digital Multi-Lab consisting of computer based precision. RF/AF Signal Generator, S/N Meter, O-Scope, Frequency Counter, Circuit Plotter, Beta Tester, Multi-level Signal Injector and Bird Termaline RF Wattmeter used for precision communications alignment and repair. Only a FlameThrower takes into consideration the long term effects of high vibration all mobile radios are exposed to, especially in big rigs, heavy construction, off road and service vehicles. The FlameThrower CB is specially modified and test proven to combat it's destructive effects, reducing radio failure due to vibration by 98%.
Only a FlameThrower has this invaluable protection. In the thousands of radios built, a remarkable zero failure rate has been earned based on workmanship. That's Quality Control that can't be beat anywhere. The Galaxy FlameThrower Edition has been awarded the Epnion's Trusted Seal for receiving top product performance and customer reviews for over 15 years.
The philosophy behind the construction of each and every FlameThrower is to upgrade & precision tune the radio to it's maximum FCC performance without over driving or sacrificing component life. It's primary focus is on unprecedented receiver performance and durability. A FlameThrower CB is frequently referred to as.
The ROLEX of CB Radios. Multiple Independent Service Techs compared these specific important performance features of the Galaxy FlameThrower CB to these popular current stock CB radios. Receiver Performance: Sensitivity, Selectivity, Speaker Volume, Clarity, Talkback & Tone Adjustment ability. Transmitter Output & Frequency Adjustment Ability. CB dramatically outperformed all stock CB brands listed in all categories tested.
COMMONLY MISUNDERSTOOD CB RADIO FACTS. FACT: Many so-called "CB repair shops", untrained wannabe Techs and misinformed garage hobbyists are prone to butchering radios by cutting out audio limiters, bypassing voltage regulators and pushing components far beyond their designed ratings attempting to squeeze a few more watts out of the radio. This type of action only results in diminished product longevity, distorted audio and poor performance. FACT: When purchasing a new radio, a simple "Peak & Tweak" or "Peak & Tune" as it is sometimes called, to a totally stock radio may seem harmless but in reality it may actually do more harm than just leaving it alone.
Sacrificing a stock radio's performance and component life by trying to squeeze out a few extra watts is just a bad idea no matter how you look at it. This type of over-tweaking is like running your vehicle's engine RPM at redline, resulting in early component failure and a trip back to the shop... Allowing a rummage through your wallet with high priced repairs.
Although that's the guarantee that most CB shops don't want you to know when they peak & tweak your stock radio past it's designed operational limitations. This splatter appears on a wattmeter as more power, but is actually wasted RF energy being transmitted off frequency, and is used as a sales gimmick by unethical CB shops and scammers. KHz bandwidth, and can not distinguish between the two. This off frequency "bleedover" energy causes interference on adjacent CB channels, TV and other radio devices.
That is to reach 100% modulation a 4 watt dead key should swing no more than 8 watts. The greater the excess forward swing ratio to carrier output the greater the distortion of the audio.
By adding a so-called "swing kit" you add excessive swing, therefore resulting in distorted transmit audio. Despite all the myths about swing kits, excessive swing will NOT help you get out better, but in fact will degrade the quality of your signal. Simply stated, swing kits are snake oil nonsense. FACT:The antenna is just as important as the radio when it comes to performance.
Don't underestimate the importance of a good antenna system. Also, don't scrimp on size of your antenna. Rule of thumb, "The bigger the better"! So get the largest one you can for your application. Also, it's location on your vehicle, SWR and proper grounding makes a dramatic difference in performance.
So do your homework before drilling holes. FACT: Attempting any DIY "Do It Yourself" receiver upgrade, power upgrade or so-called "swing kit " may not increase the performance of your radio at all, instead it may actually impede it's performance.
Some are just nonsense, and all others require much more than just installing parts. It requires proper alignment equipment and technical skills to do ANY performance upgrade on ANY radio. It's like installing a rebuild kit in your vehicle's carburetor and expecting top performance without making any adjustments. Don't turn "Do It Yourself" into "Destroy It Yourself". Leave the mods and upgrades to an expert.
FACT: When purchasing a new radio, power output should not be your primary concern but rather it's receiver performance. Receiver sensitivity, selectivity and overall performance is critical. Because 1500 watts will not do you any good if you can't hear the station you are talking to. If it's power you need, get an amplifier. That's a "no brainer".
The Galaxy FlameThrower has test proven to have the best receiver performance of any stock CB radio made, the technical specs prove it and that's a documented FACT. FACT: Atmospheric conditions have a lot to do with a CB radios ability to talk great distances. This condition is affected by solar activity and layers of atmosphere which surround the earth. At times these layers become extremely reflective to certain radio waves and reflect them back to earth much like a mirror does light, allowing communication on a FlameThrower Single Sideband CB radio for hundreds, sometimes thousands of miles without the use of an amplifier. FlameThrower CB users report there are days when their SSB radio receiver will be very quiet, and suddenly may sound much like a bees nest of communications among CB operators all over the nation. Many new to the hobby are baffled and commonly assume there might be something wrong with their radio due to the abrupt changes to their extremely quiet or extremely noisy radios. Mother nature can be quite confusing at times. This ability to hear multiple stations at the same time allows long distance talking operators (skip shooters) to communicate great distances simultaneously on the same frequency.
FACT: During the mass production process of CB radios, the time necessary to properly align each radio is overlooked in over 90% of all stock "out of the box" units, dramatically hindering it's performance. The Galaxy DX959B FlameThrower is the only radio that is individually precision aligned and test proven to meet or exceed it's advertised performance specifications, right out of the box! FACT: If you have your radio tested by two different radio shop Technicians regarding the output of your radio, and one says your radio puts out 10 watts the other says it puts out about 15 watts which one is correct?
Yes, both can be correct depending on what type of meter they are using. There are two ways to measure the power of a CB radio. One is "RMS" and the other is PEP.
When you walk into a CB shop and ask how much power a radio puts out, they will usually answer you with the PEP numbers. The simple way to know the difference between the two ways of measuring power is that RMS is the average power the radio puts out.
PEP or Peak Envelope Power is the absolute top end performance of a radio which equates to about one and a half times the RMS power. PEP= 1.5 times the RMS power. (10 X 1.5= 15). This is usually done by CB shops to impress the customer. Everyone likes to see this number as high as possible. Most people don't understand that in the real world these numbers are misleading. People are conditioned to look for these high numbers, not realizing that these numbers can only be attained on the bench using a PEP Meter.
So, most shops use PEP meters. Remember sales is the name of the game.
Of course it will cost more, but you get what you pay for. FACT: During a severe disaster either natural, man made or civil unrest, cell phones have proven to be useless due to user overload and the fact that they depend on the cellphone relay sights to be operational. " 73 "SandMan Radio 5-0-0 So. Here are some very important things to consider before purchasing a Custom or High Performance CB Radio.
Unfortunately, these pathologically unpleasable buyers ruin it for customers with legitimate complaints, and sellers who deserve an unblemished feedback record. Your the customer, and your questions should be a priority if they are interested in your business. Is the radio presented in a. With clear details listing technical upgrades, alignments or modifications done?
In some radio listings you will see the words "Super-Tuned", "Maxi-tuned", "Pro-Tuned", "Ultra-Tuned". These are words some sellers use in a attempt to describe what they try to do to their radios. These extremely vague words when used to describe a technical procedure is nothing less than ridiculous. Claims to know very little about the item. I know this Tech Joe Blow at XXX CB shop, his radios are the better than anybody's. This is usually done by a Newbie or Scammer. NEVER add an ECHO BOARD into your radio. (they never tell you that). With all the electronics for echo/reverb, noise toys, and controls contained in the microphone.
If the mic ever has a problem, simply replace it. NEVER pay for a Piggy Back Amplifier or Dual Finals Modification. Just Remember, if you see. Remember "You get what you pay for" and high performance and quality workmanship does not come cheap. It's like asking a Ford dealer how good the new Chevy trucks are and vice versa.
Don't pay more for. Ridiculous decals, glow knobs, irritating pink or silly disco flashing lights. Because they do not improve performance and get irritating while driving real quick! Also, you will never get tired of a High Performance Radio such as a Galaxy FlameThrower. Because 1,500 watts won't do you any good if you can't hear the station you are talking to.
As the hams say "if you can't hear em, you can't work em". And if it's more power you need, get an external amplifier... WARNING: CB SHOP SPONSORED FORUM CON JOB.
You will also notice that most derogatory comments posted on these forums about high performance CB radios are made by imbeciles who undoubtedly have never seen the radio they are criticizing, much less used it. Many statements made in these CB forums are written as though they are hard facts, but actually couldn't be further from the truth. Our FCC/FAA Licensed RF Technicians have posted many factual comments, proven research findings and concerns on these forums only to find the forum moderator deleted them.
Because it contradicted the unrealistic statements made by their self-appointed experts, exposing their attempt to deceive readers. Thus proving, some CB forums contain false, misleading, fabricated hearsay information, deemed to be facts, geared at targeting sales.
Inexperienced buyers should beware of this activity before they consider purchasing anything recommended on any CB shop sponsored/owned forum YouTube video or website. Just to be safe: Always consider the possibility of information posted in any CB radio forum to be fictitious. A way to easily spot an attempt to deceive readers is when. Someone posts a question or problem. On a CB radio forum.
Usually by the Forum Moderator(s) & CB Shop Owner(s). Disguised as customers, who gang up with a battery of false testimonials about XYZ radio. Based on hearsay or outright lies. While praising another Radio, CB shop, or Technician over and over again. Remember, if they don't sell it, don't expect them to say anything good about it even if they have to lie, and they certainly have demonstrated they have no problem doing that! Funny how if you read all the posts on a particular CB forum, someone always recommends the same shop or same Technician(s) for solutions to every problem.... Many sellers falsely have Galaxy FlameThrower feedback reviews in their listing as though it was for their radio which is obviously not a FlameThrower. If it doesn't say "FlameThrower" on the face of the radio, it is not a FlameThrower. The item "Galaxy DX959B FLAMETHROWER Edition BLUE High Performance SSB/AM CB RADIO NOS" is in sale since Monday, April 10, 2017. This item is in the category "Consumer Electronics\Radio Communication\CB Radios". The seller is "bri2294" and is located in Southern CA. This item can be shipped to United States, Mexico, Canada, United Kingdom, Denmark, Romania, Slovakia, Bulgaria, Czech republic, Finland, Hungary, Latvia, Lithuania, Malta, Estonia, Australia, Greece, Portugal, Cyprus, Slovenia, Japan, Sweden, South Korea, Taiwan, South africa, Thailand, Belgium, France, Ireland, Netherlands, Poland, Spain, Italy, Germany, Austria, Bahamas, Israel, New Zealand, Philippines, Singapore, Switzerland, Norway, Qatar, Croatia, Colombia, Antigua and barbuda, Aruba, Belize, Dominica, Grenada, Saint kitts and nevis, Saint lucia, Montserrat, Turks and caicos islands, Barbados, Bangladesh, Bermuda, Brunei darussalam, Bolivia, Ecuador, Egypt, French guiana, Guernsey, Gibraltar, Guadeloupe, Iceland, Jersey, Jordan, Cambodia, Cayman islands, Liechtenstein, Sri lanka, Luxembourg, Monaco, Macao, Martinique, Maldives, Nicaragua, Oman, Peru, Pakistan, Paraguay, Reunion, Viet nam, Uruguay.
Number of Channels: 40 AM + LSB & USB Single Sideband Operation
Model: FlameThrower DX959B
Custom Bundle: No
Band: with Single Sideband
Type: Mobile/In-Vehicle
Features: UNLOCKED CLARIFIER
"High Vibration" Protection:: Only FlameThrower has this protection
MPN: Does Not Apply
Supported Modes: SSB/AM/ with Public Address built in
Brand: Galaxy
Manufacturer Warranty: 2 years

---