Hmt karna nos new old stock original hand winding watch for men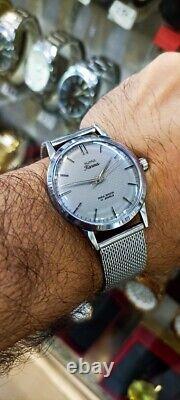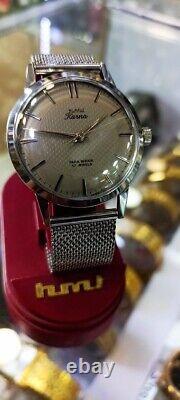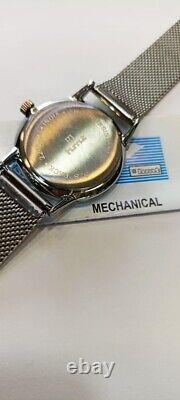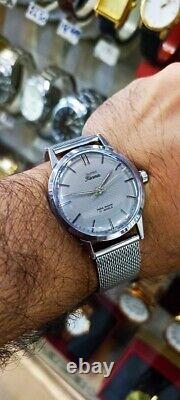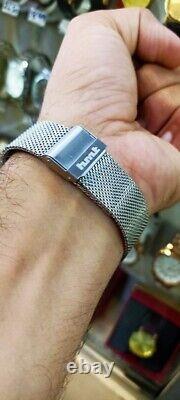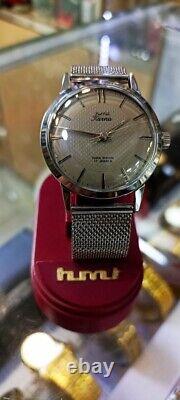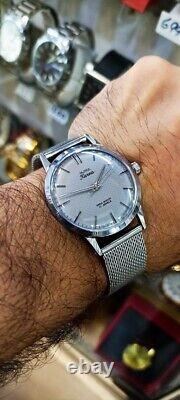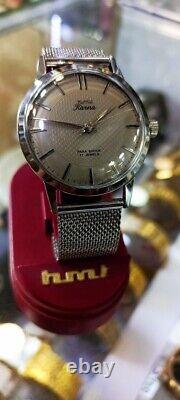 The HMT Karna Nos Original Hand Winding Watch for Men is a classic and timeless timepiece that showcases HMT's expertise in watchmaking. Here is a description of this watch. Design: The HMT Karna Nos watch features an elegant and sophisticated design that exudes a sense of understated luxury. It has a round stainless steel case with a polished finish, giving it a sleek and refined appearance. The case diameter is typically around 36-40mm, making it suitable for most wrist sizes.
The watch is equipped with a scratch-resistant mineral crystal to protect the dial from daily wear and tear. Dial: The dial of the HMT Karna Nos watch is clean and minimalist, emphasizing readability. It usually comes in a classic white or cream color, complemented by contrasting black Arabic numeral hour markers and matching hour and minute hands. The dial may also include a small seconds sub-dial located at the 6 o'clock position, adding a touch of sophistication to the overall design.
Movement: This watch is powered by a hand-winding mechanical movement, which means it does not require a battery to operate. To keep the watch running, you need to manually wind the crown located on the side of the case.
This traditional movement adds a vintage charm to the timepiece and provides a more interactive and involved experience for the wearer. Strap: The HMT Karna Nos watch comes with a genuine leather strap that is comfortable to wear and enhances the overall aesthetic appeal. The strap is typically brown or black, depending on the model, and features a traditional buckle clasp for secure fastening. The width of the strap is designed to complement the case size and ensure a balanced look on the wrist. Water Resistance: It's important to note that the HMT Karna Nos watch is not typically designed to be water-resistant. Therefore, it is advisable to avoid exposing it to water or moisture to prevent any damage to the watch's movement or other components. Overall, the HMT Karna Nos Original Hand Winding Watch for Men is a classic and reliable timepiece that embodies the charm of mechanical watches. With its elegant design, hand-winding movement, and attention to detail, it makes for a sophisticated accessory for any gentleman's wrist.

---