NOS 1970 Z28 SS RS Camaro Parts Collection ALL GM NOS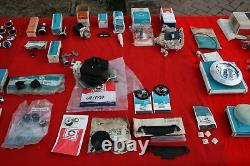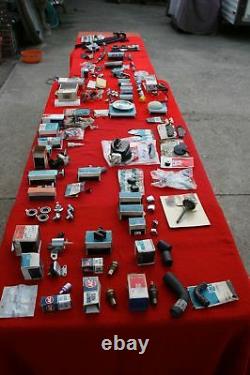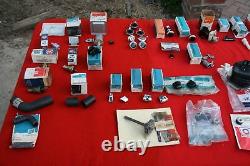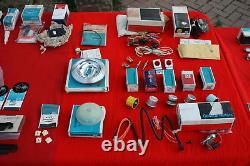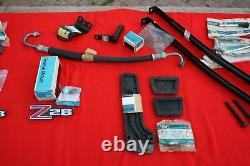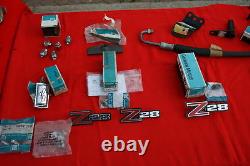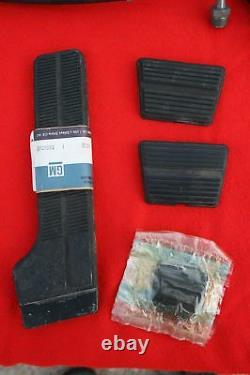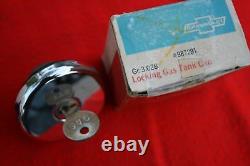 1970-73 Z28 LT1 SS RS Camaro NOS Parts Collection. Up for consideration is HUGE collection of rare and hard to find 1970-73 Camaro parts. There are many interior knobs, switches, and detailing parts as well as trim, emblems and rare accessory lamp kits and under hood parts. A number of these parts also fit 1969 Camaro as well as 70-76 Camaro. I can provide you with a spreadsheet and photos of many more NOS and nice original used parts I have available to list.
See the HUGE LIST that follows below this listing. INCLUDES ALL OF THE FOLLOWING NOS GM PARTS. Temp Sender Switch Single Pole, threaded.
Temp Sender Switch Single Slide Pole w/gauges. TCS Temp Sender Switch 2-connector w/gauges. At Valve cover wire loom connector. Air Cleaner vent hose 1.762. TCS Relay Switch Cowl mounted.
Seat back release knobs set (2). Seat Adjuster release knobs (chrome). Seat Adjuster seat knobs (black). Wiper mount grommets 10.152.
Shoulder Seat Belt Headliner hook set. Wiper mount grommet with brass clip. Windshield Wiper Washer Reservoir Cap. Glove Compartment Lamp Accessory lamp Kit. Z28 LT1 Valve Cover Flag Emblems (2) 0.388.
Door Handle Base gasket Set (2). Wiper Switch Depressed Park 10. Clutch and Brake Pedal Covers (2) 4.630. License Plate Plastic screw mounts. License Plate Attaching Kit w/screws.
Flasher Aluminum case w/ green stripe. Flasher Aluminum case w/ SF/552. Battery Hold Down (set 2) 2.335. Power Steering Hose (hi- press) 6.670.
Gas Tank Mount Straps set (2) 3.022. Wire Block at Radiator cowl support. Check out THESE NOS/USED PARTS listed upon request. MOTOR MOUNT 67-68 302,350, 396 exc z28Also 1961-65 FULLSIZE W 409, 65-67 w 396-427, CHEVELLE 65-67 w 396, CHEVY II 1968 w 350-396, CAMARO 67-68 w 302,350,396.
MOTOR MOUNT engine motor mount. 67-68 302,350, 396 exc z28 with Bolt set.
Motor Mount Frame Bracket SET/2, 307 350 exc z28. Motor Mounts Frame Brackets Set/ 2.
For 1970-71 396 400 454. CE 1970 1971 LT1 Date L 220 Block 4-bolt mains.
C-28- 0 date code and D-8-0. Head NOS SINGLE 302 cu in. Code 0-6 OR G -63 code.
9 Nov 2 1969 date with screw in guide plates holes. Heads 186 used Jan date coded set.
SBC 302 327 350 UPPER. Head bolts 10 count 7/16-14- 1-3/4 SB 307 350. 2.02 Intake Valve Set NOS Z28 Lt1. Valve Spring Set 307 350 Lt1.
Springs Valve Springs Double 1967- 76 Z28 350/307/327 with retainers. Valve Springs Double 1967- 76 Z28 350/307/327 with retainers. Rocker "O" hi performance Z28 lt1.
Rocker arm Z28 LT1 set or 2. Rocker arm LT1 Z28 rocker arm set of 2. Valve cover nos orange metal with breather hole. Valve cover LT1 350 NOS.
Valve cover LT1 350 NOS in box. 3- Push Rods Blue Tip. 7- BLUE TIP push rods. (4) Z28 LT-1 350 Rocker Arm Studs. Screw in rocker studs LT1 set of 4. LT1 NOS Push Rod Guide 350 Special Hi Perf. Lt1 push rod guide plates set of 10. Push rod guides plates set of 4.
Engine valve push rod guide z28 LT1 350 solid lifter set of five. Engine push rod guides 1970-74 Lt1 z28.
LT1 lifter set 16 nos. LT1 Z28 350 375 hp camshaft.
Pistons LT1 350 3959456 with rods. 1955-57 CORVETTE pistons set of. Z28 Deep Groove Crank Pulley DOUBLE GROOVE.
Harmonic Balancer LT1 350 8inch dia 3817173 #3942538. Harmonic Balancer Washers set of 2. 1969 Camaro Corvette L78 Flywheel Date C 12 9. Transmission bell housing flywheel inspection cover. Underpan Converter Inspection Cover AUTOMATIC TRANS Turbo 400 1970-73.
Clutch Bell Housing, Used, Clean, no breaks, no repairs, Light orange factory overspray, with origial. Clutch fork adjuster rod w threads, Fork end (male) 1967- 76. Clutch fork push rod adjuster rod z-bar end (female).
Clutch throw out bearing nos. CT22E-1 1967-72 3-spd newer no. Clutch z-bar felt washer seals nos. BELL HOSING CLUTCH BALL STUD PIVOT BOLT SET OF 2. Clutch z-bar, release lever and shaft , 1967-69 all exc 396.
Clutch z bar , release lever and shaft. 1970-76 all, with yellow factory gm number. Clutch z-bar, release lever and shaft. 1972 clutch pedal push rod. Rod, Clutch Push Rod 1972-76. BELT power steering 15-32 x 35. 1969 70 302 350 LT1.
Cast number 3998198 part number Date code 1971 L19 0 Nov. TCS Thermo Switch AC 82B 232M. TCS thermo switch two terminal. Temp sending unit Gauge Temp Sender. Housing, Thermostat Outlet , Cast Iron (not camaro).
Radiator hose lower 1970-72 307 Z28. Z28 LT1 THERMOSTAT HIGH OUTPUT 180 degrees. Header Panel, Rally Sport RS. RS chrome grille surround USED NICE.
327539 1.270 RS Header, NOS Valance. Radiator mounting bolt SET OF 4. Windage tray bolts 5 of them windage tray. Windage tray oil pan 350 z28 lt1. Set of 12 PCV valve Cover Gromets. PCV Valve CV74C Purple NOS. CRankcase air cleaner vent tube BB 67-69 Camaro Nova Chevelle Corvette. Air cleaner to valve cover hose Z28. PCV hose clip L78 dual snorkel BB. Tube, AIR CLEANER vent tube Z28 1.762.
Tube, Air cleaner to valve cover Rubber. OIL FILTER Raised Embosed P25. GM PF25 WHITE oil filters WITH the embossed lettering (2). Sender, Temperature Gauge Switch Gauge Package (center post threaded connector) 1971 only. Sender, Temperature Gauge Switch Gauge Package (center post slide on connector) 1970 only.
Head lamp Trim Bezel LH. Head lamp Trim Bezel RH. Rod, Ignition Actuating 1969-78 w Tilt NOS. 3 Qt 1974 packard spark plug wire set SBC. Spark plug bracket set of 2.
Plug wire heat shields 1970 USED set of 4. Spark plug wire valve cover retainer 2-Wire Set of five. 3/8-16 X 1 13/16 Water Outlet Alternator Power Steering Pump STUDS IN PACKG. 69-70 camaro chevelle nova impala. Bezel, Headlamp Trim LH , 1970-73.
Bezel, Headlamp Trim RH 1970-73. Battery Hold Down Clamp in GM Parts Bag. HR battery cable Negative 1970 CORRECT.
Positve core support junction block original design. Battery Cable negative NOS 4SX-45 GM. Battery Junction Block on core support. DISTRIBUTOR 9H 11 date chevelle 402 350 hp man trans. Ignition contact points 2 sets nos D108P.
Distributor cap nos D308R with Patent R 2769047. Distributor points breaker plate set.
Switch, Distributor Spark Advance Transmission Electric Control. Switch: TCS Distributor Vacuum Advance Solenoid Switch, manifold mounted Z28. 396,400,454 w/4BC 1970 Corvette (350). TURBO 400 AUTO Trans TCS. Brake, Master Cylinder, Power 1970.
Wiring Harness, Main cluster, ALL 1970 w gauges. Switch Headlight, D1543 Delco Remy 1969-76.
Switch Headlight, D1580 Delco Remy 1995173 changed to 1995183, and 1995192. Voltage regulator used Date 0-F June 1970. Voltage Reguator date 0-A Jan 1970. Regulator Date O-C March 1970. Regulator Date 0-A Jan 1970. TCS Green Wire Clip at valve cover spark plug loom. RH 917160, LH 917159 FRONT side marker front lamps set. 917165 LH REAR, 917166 RH REAR, 912143 LH FRT. Side marker lamp set of 4. Rear side marker lamp , 5962635 standard front turn lamp lens. Lamp side marker 2.575. Lamp Marker Lens, Left Hand Side.
Lamp rear side marker lamp + 2 brackets 5963179. Lamp, side marker FRONT LH (yellow). Lamp, side marker FRONT RH (yellow).
Lamp, side marker, FRONT RH (new # 912144). Lamp, LH REAR quarter (red). Lamp, RH REAR quarter (red). LAMP RS FRONT TURN SIGNAL.
LAMP RS front turn Signal Lamp Set of 2. LAMP FRONT signal lamp RS NOS. LAMP turn signal RS used 1 side.
Standard front turn signal lens Full Bumper. Lamp Turn Lamp Assembly RS Rally Sport. Lens Tail Light, Turn Signal. Deluxe Trim , Full Bumper, RIGHT. Lamp Turn Lamp Assembly Standard bumper RIGHT.
Lamp Turn Lamp Assembly Standard bumper LEFT. SEALS STOP AND BACK UP LENS. Standard Tail lamp Lens set of 2.
Tail Lamp Lens Set STANDARD TRIM. Lens, Tail Light Lens non/ RS RIGHT 1970-73. Lens, Tail Light Lens Rally Sport RS Right 1970-73.
Lens Back Up, w/ concentric optics 1970-71 non/RS RIGHT. Lens Back Up, w/ concentric optics 1970-71 non/RS LEFT. Lens, Back UP, 1971-73 w/Pillow Optics. Lamp license plate lamp set used. Headlight ring 1 inch wide style 1970 correct.
Headlight capsule Power Beam set with lamp, bucket and 2.726 5950248 ring. 1 inch head light retainer ring. Headlight housing mount screw (15 count). Headlight bracket set LH RH.
Head Lamp Mounting Ring bucket. Head lamp POWER BEAM HEADLIGHTS 6014 GENUINE AC GUIDE.
1965-70 chevelle monte rh inner(2) Bucket. 5959123 1970 chevelle outer (1) 5954892 (1) trim ring 1967-69 firebird , 3886613 Bezel NON RS 1967 camaro LH , 5950248 trim ring 1970 Camaro Wide. OEM 1 inch wide 1970 correct used. Ring, Headlight retainer, Stainless 1974-78.
Horn Set 289 290 Dated 1969 Matched. Horn set 289 290 1970 dated.
Horn set 1969 APRIL 0d3 and 289 290. Gas tank straps near nos. Gas Tank strap bolt set.
Gas tank strap bolt set. Locking Gas Cap 1969 camaro 1967-68 firebird, 70 chevelle, 70 monte w key. Gas cap NOS California w EEC. Seal, Gas tank sender seal. Intake manifold gasket set correct end seals. Exhaust manifold bolts (4) 3/8" 16 - 16 x 3 5/15". Z28 Aluminum Intake, Holley Carburetor, & Air Cleaner 3972121. 4555 LIST DATE 054 Z28. Air cleaner open element BASE. Nos with loose breather tube. Air cleaner dual snorkle z28 used. 1972 corvette Air cleaner dual snorkle 1972 CORVETTE. Air fliter dual snorkle z28 no. ORIGINAL GM AIR BREATHER CLEANER LID 1/4 WING NUT. Fuel NOS GM Crossram Seal Deteriorated in BOX. Carb linkage swivel (set of 2).
SET FLOOR MOUNTED Accelerator cable used 1970 71 72 73 Chevrolet Camaro Z28 Accelerator pedal 3837887 kickdown and bracket arm. Camaro Accelerator Cable 1970 4bb. FLOOR MOUNTED Gas pedal 1970 71 72 73 Chevrolet Camaro Z28 Accelerator pedal kickdown and bracket arm. Z28 floor mount gas pedal.
Gas pedal Z28 floor mount used. Floor mount pedal studs (4). GAS PEDAL FLOOR MOUNT STUDS. Z28 FLOOR MOUNT GAS PEDAL STUD NOS. 1970 chevelle nova throttle bracket spec hp 396- 454. Carb return spring z28 lt1 4bbl all. Exhaust nuts set of 5. Exhaust manifold smog tube insert.
Tail Pipe Chrome 1971 ONLY. Exhaust tail pipe AP BRAND. DUAL EXHAUST Muffler and Tail Pipe HANGER SET NEW Z28. Tail Pipe Hanger 1970-76 TAIL PIPE.
Dated 094 Holley 4bb 1971 Z28 Date Sept. Carb gaskets set of 5. Gasket carb set of three. Carb air fuel limiter caps 2 of 2 sets. Big Block 396 454 FUEL PUMP.
SB fuel pump gasket 1982-87 305 cu in. Hurst 4 spd shifter 3138 W/ Handle mid 70's Date code 0308932. 1971 HURST SHIFTER BODY with RECHROMED 7945 HANDLE MINT #1 WITH BLACK GM KNOB NOT CORRECT.
ITM 3 Speed shifter body NEW NOS. Shifter hurst #3138 black body.
Chrome Shifter Ball nos 1970 w console. Shifter Knob NOS 1971 ONLY w/console. MUNCIE tranmission shifter support bracket.
3973970 chrome shifter retainer non console set of 3 with 4.015. 3973966 boot and shifter 3990467 1971-78 (483812) seal FIREBIRD. Shift bezel NON-Console Chrome Surround. 3-speed shifter bezel console Standard interior.
Automatic Shifter Bexel Counsole Deluxe. Console shifter nos 3 spd shift bezel pattern insert. Shifter 3-sp, indicator plate, bezel mount. Shifter Hurst Muncie Reverse lock out rod Gold plated.
Shifter Hurst Muncie Reverse lock out rod 5618 Lower. Lower rear shock bushings Set of 3 1971-78. Tcs transmission switch muncie BLACK.
TCS Relay, Little Fuse INC, Cowl wire channel. Handle, Emergency Brake Release 1970 correct style. Brake Pedal Pad w stainless trim AUTOMATIC.
Cover, Emerency Brake Pedal, Correct style no script. Brake/cCutch pedal Foot Pads, standard shift (set) grp 0.830. Clutch pedal set with 4.634 support 1970-72. 1967-68 camaro clutch brake pedal support. Brake, MC repair kit, 1974 BENDIX!
Brake master cylinder with reservoir cap bleeder style. Brake Master Cylinder reservoir cap w correct 1970 markings. Brake caliper pins nos PART # 179-92. Brake bleeder valve front disc no bag.
Caliper Brake Clip set of 2. RH brake hose bracket nos.
CLIP BRAKE LINE FRAME MOUNT. Cable Brake Emergency 70-79 nova, 1967 firebird. Emergency brake adjuster cable equalizer hook.
Emergency brake cable equalizer hook. 1967-69 brake cable adjuster guide NO BAG. Brake master cyl 409 and booster 0246 date 1970 reverse delco.
Delco Moraine power brake repair kit. Brake booster AND IMPALA MASTER CYLINDER. BRAKE DISC PADS delco 171-132 changed to 1154140 disc brake pads. Brake hardware rear partial set. Brake Rear Shoe Anchor Pins.
Axle drian plug with Red Limited Slip Diff Tag. Transmission seal, part # 10-Bolt Rear Pinion Seal. Rear axle drive pinion seal group. Seal, rear axle drive pinion seal 10-bolt rear. Rear Differential Bearing Cap Bolts.
Steering column tilt W shaft. 12 BOLT GM RING & PINION KIT NOS 15-41 teeth w ratio 273.
Z28 5 spoke rim wheel. FOUR 5-SOKE RIMS THREE ITH OVAL AND ONE WITH ROUND VALVE STEM. W TRIM RINGS AND CAPS. K11 1970-71 Chevrolet Z28 Camaro original wheels w center caps. Camaro Z28 SS steel wheel 5/8 oval opening.
Wheel z28 5-8th hole K19 12 16 Dec 16 1969 set of 2. Drums, caliper, shields, rotors backing plates. Rear Drum Cast number is 3841177 Date box 1/ 15 /1969.
Brake Drum Cast number is 3841177 brake drum 3841177. USED 1st and 2nd design lug nuts. Wheel lug nuts nos set. Center caps set nos gm bowtie z28.
Z28 5-spoke center cap with ONE DING on side. Z28 5-spoke center cap NO DINGS. Z28 bowtie center caps set of 4. Hub cap NOS Chevy dog dish bow tie hub caps.
Wheel cap z28 raised center. Wheel covers Standard steel wheel nos. Rally Sport Caps 1- NOS. Wheel cover USED PO2 Wire Turbine Cover.
1967-68 first design 14 x 6. Z28 trim ring LT BLUE CLIP. TRUNK WRAP Dealer INSTALL READY 4Pk OEM 14 Ralley Wheel 4 Clip Trim Rings First design Outer clip. Trim ring set one with missing clip nos.
Set of 2 one with light blue clips. One with dark blue clips. Wheel trim ring z28 original w blue clip mint. Tire valve stem extension set of 4. Spindle nuts set of 6. Brake, Master Cylinder, MANUAL 1970. Control Arm Upper Shaft Kit. Upper Control Arm Shft KIT. UPPER control arm bushing set.
Bushings control arm HARRIS FG62741. Control arm bushing UPPER sprayed prtective coating lt grn. 1967-69 bushing UPPER control arm. 349379 superseded by 14002389, 14011215, 14034861 and 14039013. LH LEFT UPPER CONTROL ARM.
LH Upper Control Arm with ball joint and shaft set. Steering control arm BO6AOR STAMPED. Control Arm Upper LEFT SIDE. Bushing control arm LOWER REAR.
Bushing Lower Front control arm. Bumper snubber upper control arm 2. A-arm upper control arm snubber.
Suspension bump stop spacers A-Arm Z28. Steering A-arm snubber spacers z28 USED. Suspension control arm snubber spacers z28. 1969-70 Buick Electra Lesabre Wildcat Estate Wagon Tie Rod Adj Sleeves.
Tie rod adjust sleeve and clamp sets. Tie Rod End Adjusting Sleeve.
Steering tie rod sleeve with two clamps and bolt set. INNER AND OUTER TRE sleeve tie rod. Tie rod end inner 1967-69. Steering tie rod end clamp SET OF 2. Steering tie rod end clamp. 1967-69 grease seals DISC brakes. Caps grease wheel bearing spindle.
1970 Camaro RS Steering Box and Rag Joint Dated 0 047 Julian Feb 16 1970. Steering gear box 1967-69 standrd with rag joint. Ss horn shroud used excl condition.
Steering wheel w deluxe horn shroud. Steering Wheel w deluxe BOWTIE shroud 3982326 couple cracks in wheel.
Steering wheel with vinyl wrap small crack. Steering Wheel with black bexel and bowtie. Steering wheel w SS horn button BLACK.
LATCH SHOE Tilt Column 4 position Latch Shoe. Tilt column w/ floor shift with intermediate shaft.
BOWL steering housing bowl 69-70 exc tlt. Dash panel lwr steering wheel.
In GM box, Deluxe silver trim. Lower Steering Column Bearing Retainer. Bolt Steering Coupler Rag Joint. Steering Rag Joint, Flange and Coupling, 1967-78 W PS.
Power steering pump Pivot 1 of 3 pieces;3941102 Pivot and 3941103 slotted adjuster and 3959558 SET. (3941104) engine brace 2 of 3 pieces.
Brace 3 of 3 pieces. BB 1970 1971 CHEVY CAMARO 350 454 POWER STEERING PUMP SPACER AND HARDWARE. Power Steering reservoir adjuster bracket.
Cap, Power Steering reservoir Cap. 1967 1968 1969 CAMARO DRAG LINK NOS CENTER LINK. Center Link w- power steering nos. ARM to frame and 14.157 Folding Top Rail 8 nos nuts. ARM to frame and 14.157 Folding Top Rail 1967-69 firebird gm nos locking nuts 3/8 -20.
CS front coil spring 1973 Z28. CHEVELLE 64-72 Front Sway Bar Link Kit (set of 2).
Sway bar link pin set missing one washer. Sway bar link pin set incomplete. Sway bar link pin set.
Sway Bar Set USED F-41 rear sway bar 9/16. Z28 FRONT SWAY BAR 1 THICK. Sway bar rear 11/16 with one drop link. Sway bar SS F41 set 9-16 in diameter with bolt on fram mounts.
Sway Bar Rear NOS set 11-16 with bushings and 1974 drop links single c clamp style drops. Front sway bar bracket WITH HOLES. Front sway bar frame mount first design. Sway Bar Clamp, Rear Sway Bar, Drop Link clamp. Rear sway bar bushings OUTER. 11/16 rear sway bar bushing and bracket set. Bushing, sway bar rear, outer 11/16 Z28. Bushing 9/16 Rear sway bar OUTER.
BUSHING Front Sway Bar, 1 Z28 Set of 3. Lower Inner sway Bar Bushing 5/8. Lower Inner REAR sway Bar Bushing 5/8. Front sway bar bhsings frame mounts 1 inch Z28 Set of 6.
Sway bar bushings Front One. Rear sway bar bushing and bracket set. Z28 1 inch front sway bar. Sway bar bushing Z28 1 inch. BushingsSway Bar Rear Drop Link. Shock rubber bushings set of 2. Shock hardware kits LOT Pleasurizer AIR LINE KITS. Hock set nos gas delco performer. DELCO shocks, nos rear set.
Shocks 1970 camaro firebird NOS set 3192282 box no. Date code 125 70 Delco Products Ohio USA. AIR SHOCK shock jac pack air rear nos no pump valve harwr only. Shocks JAC PAC AIR SHOCK CHEVELLE? Shock original 1971 Camaro spiral.
Shock clip nuts 8 totalpcs. Shock Bushing set of 6. BOLT , SHACKLE SPRING, 2 of 2. Spring shackle bushing kit 2. Rear spring shackle bushing set. Spring perch mounts nos installed set. Bumper, Rear spring axle stops (new number 483746) 1970 design correct. Suspension spring axle bump Stop.
1969, all models all years customize to fit... Spare tire and bumper jack J-BOLT.
Spare tire wing nut set of 5. Accessory Spare Wheel Lock Pkg. RS FRONT LICENSE PLATE BRACKET. RS license plaate holder USED.
Bracket, License Plate FRONT NON RS. License plate attaching screws kit. Bumper guards Rear Z28 NOS. Bumper guards rear z28 NOS. Vertical Support Bar, RS NOSE Grille.
1969 camaro Valence Panel NOS GM. 1973 ONLY bumper full front. Valance front standard full bumper.
VF3 Rally Sport Front bumper set. Bumper front LEFT and RIGHT. Valance, Lower NON RS 1970-73 only. Extension Spoiler Front Brace Rod.
Brace, Front Spoiler, Extension, (note slight bend NOS). Bumper, Vertical Support Rally Sport Grille. Inner Front Bumper Bracket RS and STANDRD.
Bumper bracket rear nos LH outer 1973 only. Brace Center Face , Urethane Nose RS. Bracket, bumper inner front, RH.
Bracket, bumper inner front, LH. Urethane Nose RS RIGHT SIDE. Stainless capped bumper bolt 6. RH outer Front Bumper Bracket. Seal, hood to cowl AC and Deluxe insulation Packg.
Trim hood edge RPO B85 nos. Moulding, Hood Edge Top Z21 Trim RPO B85 RIGHT.
Clips, Hood Insulation retainer (25 required). REAR HOOD BUMPER set of 2. Hood pin set of 2 nos. Center grille hood release support nos.
Hood Release Rally Sport 1970-73. Rh and LH Front FENDER Set. RH Deluxe fender trim molding.
Upper fender rear molding LH. Z21 Trim RPO B85 RIGHT. Moulding, Fender Z21 Trim RPO B85 LEFT.
1973 only Core Support to fender brace. ROD Fender to Core Support Rod RIGHT.
ROD Fender to Core Support Rod LEFT. Z28 fender script emblem set. RALLY SPORT BADGES Fender Script. Filler, bumper to front valance LEFT SIDE.
Filler, bumper to front valance RIGHT SIDE. Rocker moulding set w 3 retainers nos with shelf wear. Rocker panel molding nos RH.
Moulding, Rocker Panel RIGHT SIDE w/attach hdwr. Moulding, Rocker Panel LEFT SIDE w/attach hdwr. Spring Z28 Holley Throttle Return Spring. Holley Return Spring Throttle Z28. Frost Shield reear window 16 x 20.
Jack mast hook base lug wrench and Z28 hold down Date code 1-J September 1972. GM BUMPER JACK LUG WRENCH SLEEVES TIRE IRON RETAINERS. Jack 0F jack assembly dated "0F" (June 1970). Jack Base CHEVELLE square hole year? Jack Cover/ some with tab.
Highway Safety Kit UNOPENED NOS. Heater box fan cover non ac. 1969-70 underhood lamp kit with blems. Nut Upper Control arm Frame mount 1967-69 Camaro, 68-70 firebird rear spring front eye.
Washer Harmonic Balancer Crank pulley set of 9. Front sway bar bracket bolts (SET OF 4). Washer, Body Mount 2 Set of 4 NOS 1967-72 Camaro or 1968-72 Nova body mount washers. 3 BUSHING FRAME BODY set of 2.
(8) 38935159 body mount upper rubber rings. (7) 3908370 leaf spring rubber bushings. (2) 3930052 leaf spring pads (3) 3920212 leaf spring pads. (2) 384220 A arm bumpers.
#1 upper and lower set. Mount Body Bushing Location Mount #2.
Dash vent duct air controler. Radio knob set inner and outer 4 pc in envelope. Radio 8 TRACK & STEREO RADIO HARNESS. Radio CHEVELLE rear spEAker kit. 1967-69 firebird camaro speaker kit.
UNOPENED ACCESSORY REAR SPEAKER 1973 74 75 CHEVELLE STATION WAGONS. Rear Speaker Kit with fader and power harness for chevy and grille 1971 up. Speaker grille nos 7938725 with 7935566 hrdwr.
Fader Control Kit NON CAMARO. Lighter 7021700 nos with crack. Near NOS Deluxe Gauge Surround Carrier.
Deluxe bezel used with carrier needs repaired. Deluxe Gauge Surround Bexl Carrier w Rear Defogger. Deluxe Dash Gauge Bexel Surround Carrier DELUXE with black trim no defogger. Used chrome trim needs cleaning. Dash gauge bezel deluxe used NICE no chrome trim, worn wiper script. Dash cluster with complete tabs and lens and and with BLACK standard bezel USED Z28 65-85K tach. Gauge cluster CASE w gauge package. Gauge cluster CASE with idiot lights. Gauge cluster z28 lt1 with 4 tabs in housing good , 150 speedo 65-8k tach. 1970-72 All exc z28 and BB.
Clock, Console Mount, Accessory Kit. Clock, Console Mount, Accessory Kit DATED APRIL 9, 1971.
Clock, Console Mount, Accessory Kit 1969 dated. Clock, Console Mount, Accessory Kit clock nos. Clock, Console Mount, Accessory Kit 993581 Date Apr 15 1969. Emergency Road Spot Lamp, Plugs into lighter Correct for 1970. 2 of 2 defoger kit nos.
1 of 2 defoger kit nos. Defoger set used 5/70 date motor. Dash Vent Cable Black Knob NOS. Cap, front wheel bearing grease retainer cap.
Dash vent pull cable nos. Cable, Air Vent BLACK KNOB. Cable, Air Vent CHROME KNOB. Defogger Fan Set less vent tube. Luggage Compartment Lamp Kit No Hardware.
Lamp, Luggage, Trunk Lamp Kit Accessory Correct number for 1970. Lamp, Luggage, Trunk Lamp Kit Accessory 1970-76. Front Window Trim Molding Set. Eyebrow Drip Eschucheon moldings windshield.
Trim, Vinyl Top Trim Set USED. Trim, Vinyl Top LEFT SIDE. Mount 1968-75 Chevrolet Nova and 1967-80 Chevrolet Camaro LOWER #1 body mounts. Moulding, Windshield reveal LEFT SIDE. Moulding, Windshield reveal UPPER CENTER. Moulding, Front Windshield reveal RIGHT SIDE. Trim, Vinyl Top RIGHT SIDE.
Moulding, Front Windshield reveal LEFT SIDE. Washer reservoir filter set of 9. Deluxe resessed wiper arm set black.
ARM W/DEPRESSED PARK RH WINDSHIELD WIPER ARM Black. Wiper transmission arms set Depressed Park.
Wiper Arm 67-72 nova sport cpe. Grommet Package Kit Windshield Wiper Motor Mounting Kit 3 screws, 3 insulators (supc 4910180). Washer pumps Set of 2. Valve, Windshield Washer Pump Repair Kit.
W/ s straight valves, white. Brass washer filter and hose. Cap, Windshield Washer Reservoir Bottle (Correct 1970 with no script on cap). Jar, Reservoir, Bottle Windshield Washer Fluid. Spcd 3961557 Correct for 1970 Camaro.
Windshield Wiper Transmission Linkage Arms. 1969 Camaro wiper switch ALL. Switch, Wiper/Washer with RECESSED 1970-71. Switch, Wiper/Washer NON RECESSED 1970-71. Pump, Windshield Washer Pump w/GM USA stamped w 49180707 cover. First job mirror with 2 piece arm. First Job Rear view MIRROR. Mirror 1970 first job nos. MIRROR arm first job 1970 mirror. First Job 1970 only, stainless, 10. Rear view mirror First Job 1970 only. 2-piece with screw, Rear view mirror, First Job 1970 only. Visor Mount Arm Tips set of 2. 1970-72 LOWER DASH WITHOUT WARNING LAMP. 1973-78 Lower Dash Panel with Seat Belt Lamp DELUXE. 1973-78 vent LEFT , Non Deluxe. NOS in GM BOX 6264751 new no.
Dash Air vent housing, DELUXE. Dash Pad , used with AC. Dash Vent Panel, LEFT deluxe. Surround NOS in GM Box , Deluxe trim.
With seat belt warning lamp, Bright Accent Deluxe Interior trim, Note; very Small lower side corner break shelf damage 3994596. 70-73 camaro center console top ash tray tail section. Console ash tray top panel. Console center bracket for a manual. Console tail section nos in GM box.
Console top section NOS 5-07 #1. Console ash tray lid nos. CONSOLE DOOR 1968-69 console door nos.
Glove box interior hinge inner panel 1972-78. COURTESY LAMP nos partial kit. Courtsey lamp kit Green box 1962-64. Glove box lamp kit nos. Courtesy light kit nos 986287 in GM box.
1962 Biscayne in old green and orange Gm box. Courtesy lamp kit nos in old green and orange Gm box. LH, driver's side COMPLETE DOOR.
RH Door Handle outside 6 inch. Door handle outer escutcheon gasket. KNOB, Door Lock Inside Chrome Pull Knobs. Door striker with roller bushing. WEATHER STRIP FASTENERS Black Push.
RH DELUXE door reveal mldg. RH upper belt molding deluxe trim set of 2. Right & Left Chrome upper door deluxe reveal moldings. Moulding Door Trim Front Door Reveal Z21 LEFT SIDE. Moulding Door Trim Front Door Reveal Z21 RIGHT.
Moulding, Door Edge Z21 Trim RPO B85 RIGHT. Moulding, Door Edge Top Z21 Trim RPO B85 LEFT.
PASSENGER SIDE NOS SIDE WINDOW WEATHER SEAL. Guide Washers(2) NOS PLASTIC. RH USED DELUXE window regulator. Standard Intereior Driver Side Window Regualtor Assembly in deluxe box. Window crank nos cast 9715291 B7F.
1967-69 Firebird Camaro Sill plate set. LOWER rear window molding upper 2 of 3. 2 of 2 rear window trim molding LH.
Moulding, back window reveal, lower side RIGHT. Moulding, Door drip LH Moulding, Door drip RH. Moulding, back window reveal, UPPER. Rear window trim corners LH RH. Set rear window conrer molding trim set.
Rear Window Corner Moldings set. Window rear CORNER MOLDING trim nos set.
Seat head rest adjuster excutcheon. Knob, Chrome Seat Lift Knob. Seat adjuster knobs 4 set. Knob, Seat adjuster Chrome finish, First Job 1970.
Knob, Seat adjuster Black smooth finish. Dome lamp bezel 1970 only. Dome light bezel correct 1970 silver inside reflector.
Dome Lamp Bezel 1970 only. Dome lamp bezel and lens nos. AC GUIDE LIGHT LAMPS BULBS NOS L1157 L1156 L1004.
Lamp dome light nos 1970 correct wth silver refector. Dome lamp bezel and lens set. Dome light bezel with white base and lens.
Dome light lens 1970 correct. Dome Lamp Lens Correct 1970.
Lens Dome Light Surround Bezel 1970 correct style. Lens, Dome light lamp Correct 1970 CAMARO. Door jam switch pair NOS w "MB" markings.
Ash tray front plate cover. Ashtray Fiber Optic Lamp Wire Partial Kit. Ash Tray Fiber Optic Light. Ash tray Face Plate, Black. Ash tray fiber optic astray lamp kit. Ash tray fiberc optic lamp kit.
Lamp, ash tray lamp kit nos 1967 Firebird Camaro. Lamp, Ash tray Fiber Optic Lamp Kit. Tray, Ash tray dash, Metal Style 1970-73. Ash tray fiber optics clip nos 1968-69,1971-73.
Console ash tray console, 1969, 1970-72. Console ash tray 1969, 1970-72. Console ash tray used with nos box, 1969, 1970-72. Console ash tray nos in gm box.
Ash tray, console 70-72 dash 1969. Moulding, back window reveal, lower side LEFT. Moulding, Front Windshield reveal RH. VINYL TOP TRIM MOLDING LH RH. Trunk camaro script emblem CAST NO.
TRUNK EMBLEM cast no 9804204. Trunk lid bumper deck lid. 25 feet of original NOS GM trunk weatherstrip. Trunk weatherstrip nos 9825829 14 feet. Weather strip TRunk 12 foot length.
Cowl Screen Air intake Vent. RH Vinyl top roof molding nos. LH vinyl top drip edge door vertical.
LH Vinyl Top trim vertical chrome. Ski rack to be used with carrier 987141.
Door Skin RH NOS some dings. Door Skin LH NOS near perfect. Panel, Rear Quarter Side Outer RH.
Door astro vent valve ONLY ONE. Astro Air Vent Door Valve Set of 2. Astro Door Vents Valve set. Door Astro Vent NOS set. LH Outer Wheel House Rear. RH PASSENGER SIDE OUTER WHEELHOUSE galvanized. Rear Outer Wheel House Galvanized SET. Fuel filler license plate gas door.
1967-69 fuel door license plate. License Plate- Fuel Door 1970-78. Gauge Bezel, #2 Deluxe Nice.
Tail panel and RH Trunk Drop. Body Tail Panel suprc 9827173.
Filler, Deck lid to rear window. Trunk drop Passenger Side R-H. Filler, Rear compartment pan to quarter filler- trunk drops LEFT. Filler, Rear compartment pan to quarter filler- trunk drops RIGHT. Dash Pad, NO /AC and lower dash w radio hole issues.
Dash Pad NOS Gm with AC in GM BOX 1973-78 with Air Conditioning. Dash Panel, Under steering Column DELUXE.
LH Lower door panel nos DELUXE. Deluxe RH Lower door panel. 1970 TRIM 711 712 713 725 1971 775 785 789 door arm rest pad. 1970-71 door arm rest set USED. Infant Love Seat GM NOS.
LH Seat Belt Shoulder Harness Clear Plastic Headliner Clip LEFT. LH Shoulder Harness Headliner Clip. Seat belt nos 09a70 #4912.
Seat belts used 1970 camaro. Boot Cover, Seat Belt BLACK. Retainer, Shoulder Seat Belt Retainer, Headliner Mount. Seat headrest set used 1970 only. AUTOLIT COLOR CHART 1970 mx7151-GJLTIP. LH Rear Arm Rest REPOP. Salesman's COLOR CHIP DECK 1971. 1970 Camaro and Corvette Specifications and Features Dealers Brochure. AC Delco L1157 lamps box of 10 bulbs.
Bolts 350 Small Block Bolts from 1972 Chevelle. VINTAGE BULLET STYLE CHROME VACUUM GAUGE. License plate attaching hardware in gm glove box pckg.
VINTAGE PACK OF NOS GM FUSES 5 IN THIS PACK. Illustration Catalog, Chassis and Body parts. GM DEALER SERVICE DEPARTMENT FLOOR MAT PROTECTORS GM Keep that great GM feeling with Genuine GM parts Service Floor mat sheet 8. HEATER CORE TUBE HOSE WIRE LOOM TIE STRAPS. Oil Dip Stick and tube USED stamped Gm 6041-M-Quality MS Oil.
FORD valve stem extension one inch 1 of 6 sets of 4. Tire Goodyear F70-15 NOS WTO 5B84. Carpet hump cover used original. Radio CB Used GM 23 Pearce Simpson. Door Jamp Catch with Early square relief.
L1157NA bulb set Amber (set of 5). (1) NOS Clear Plastic Glovebox Pouch dated 1971. 1982 PArts Catalog GM Chassis and Body original 1965-75. Hardware Lot parts carpet clip dash clips arm rest bracket misc.
LOT Speedometer REduction repair parts Stewart Warner part in Box nos. LOT HARDWARE 1970 Chevelle hardware USED. Part# 48089 1970-73 Camaro Z28. Flasher Tung-sol nos #224 GM marked 411. Please do not send CASH!
I WILL SEND MORE PICTURES WHEN POSSIBLE! 67 68 69 70, 71, 72, 73, 74, 75, 76, 77 78 79 80 81 1967 1968 1969 1970 1971 1972 1973 1974 1975 1976 1977 1978 1979 1980 1981 SS RS L79 DZ FI Z/28 L34 L48 L78 L88 ZL1 COPO YENKO berger joel motion rosen Baldwin rpo ralley rally sport, super sport, Hurst, big block, 302, 307, 327, 350, 396, 400 427 454 M20 M21, M22, Rock Crusher, winters posi, camero, nova ss camaro rs/ss GM norwood van nuys. The item "NOS 1970 Z28 SS RS Camaro Parts Collection ALL GM NOS" is in sale since Sunday, July 30, 2017. This item is in the category "eBay Motors\Parts & Accessories\Vintage Car & Truck Parts\Other Parts". The seller is "kycourtyard_camaros" and is located in Lexington, Kentucky.
This item can be shipped to United States, Canada.

---