Nos Casio J-100 Pace Runner Jogging Calculator Vintage Digital Watch Japan 1980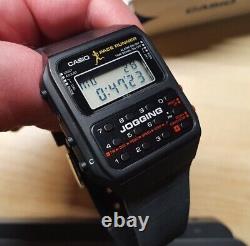 NOS CASIO J-100 PACE RUNNER JOGGING CALCULATOR WATCH VINTAGE JAPAN 1980. Stored in humidity and temperature-controlled environment, away from any sources of light. Maintained with Swiss batteries and lubricants. Have a glance at my other listings where you will find a selection of new and scarce vintage digital watches. Many took years to secure and, surely, many won't be seen in this condition ever again.
Happy to help fellow aficionados and answer any questions about the intricacies of the technology, general quartz maintenance, etc.

---